Karren is the founder of PAMD International, LLC. PAMD is an acronym describing her foundational principles and life sustaining belief which is to be positive with an attitude of motivation and determination. The mission of PAMD is to assist individuals, corporations and organizations in unlocking the shackles of self-imposed limitations, capitalize on the power and authority that resides within, and revolutionize their verbal speech patterns.
Passion: Owning and accepting their destiny,
Resolve: Determined to succeed, and
Enthusiasm: Fully energized to successfully plot a plan for continuous growth
Karren captivates her audience with insightful stories that apply to all areas of life.  Karren shares various stories to demonstrate that although people have different experiences, challenges and obstacles, the resulting emotion is the same.  We all experience strong negative emotions, such as, disappointment, discouragement, sadness, depression, fear, anxiety, loneliness, grief, and envy.   She equips the participants with powerful solutions to transform these negative emotions.
"I constantly tell people that giving up is not an option", says Karren.  She believes that you must accept and love yourself to achieve a successful and fulfilling life.  Karren says, "Self-acceptance is another key for ensuring a stable foundation; therefore, regardless of the challenge a person is able to bend and not break.  However, even when recovering from a stage of brokenness, a person is still able to assess the situation, regain control, and maintain a steady course to fulfill their goals and dreams."
Motivational/Inspirational Speaker
Keynote Speaker
Seminars and Workshops (including teleseminars and webinars)
Radio/Television Talk Show: Scheduled interviews
Mentor: One-on-One mentoring sessions
Karren retired as a senior manager in the federal government with over 35 years of public service.  Her leadership sessions are designed primarily based on her experiences and different principle and practices applied to ensure the organization's mission is accomplished.  Karren understands that an organization's success is based on the tone of the leadership and their willingness to be continuous learners, applying different tools and techniques along the way.  In her role in the government, Karren was not intimidated by the various challenges or obstacles.  Under her leadership, she and her teams would embrace the challenge or obstacle and meet it head-on with professionalism, integrity, and a "Yes, we can" attitude.  As such, she received numerous local and national awards.
The ONE Thing a Leader Must Do
From Follower to Leader: It's Your Time
Why I Had a Booth
What Two Small Things Taught Me
Karren's audiences range in age from youth to adults.  Therefore, she customizes her speeches, presentations or sessions to meet the needs of the individual, corporation, or organization.  The presentations can be based on a theme or topic as directed by the requesting individual or organization. As a conference and keynote speaker or when conducting workshops and seminars,
Her topics include:
Play the Hand You're Dealt
Unlock The Shackles and Live
Stuck in the Past…I Remember When
And You Say You're Challenged?
The Success Factor
Shaken But Not Destroyed: A Tip to Overcome Obstacles
Request Karren for your next event.  Complete the on-line "Speaker Request" form.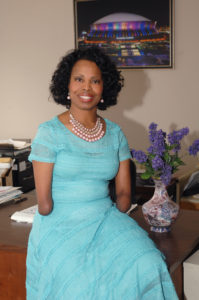 As a mentor, Karren provides one-on-one sessions for individuals, based on their need to remove obstacles and roadblocks hindering their ability to succeed. Karren ensures that she first and foremost establish a relationship with the individual. Her sessions are genuine and authentic to establish a chemistry between her and the mentee. Karren focuses on a mentee's character, values, self-awareness, empathy, and capacity for respect. All of these prerequisites to ensure the mentee maps a plan for success to master the necessary competencies based on their goals and dreams. Karren understands that who you are is more important than what you can do. As Dr. King stated, "..it's about the content of your character."
Karren seeks to help the mentees' understand and embrace their strengths but she guides them through a session to uncover their underlying passions, too. She helps them discover their calling. As a senior manager in the federal government, if an employee and a position were not a good fit, or if an ambitious employee realistically had limited upward mobility, she would help the mentee move on. They were better suited to another role within the organization, or even to a new path somewhere else.
Karren embraced a song her parents taught her:
"If I can help somebody, as I travel along
If I can help somebody, with a word or song
If I can help somebody, from doing wrong
No, my living shall not be in vain"
Karren has committed to helping, as well as, members in her church and others become fuller versions of who they are. This is why she stills sings versions of this song today (okay she can carry a tune) and has remained devoted to bringing others along. As stated by author Anthony K. Tjan, "…before you might be tempted to help them think more realistically, mentors need to be givers of energy, not takers of it. Consider why an idea might work, before you consider why it might not. The best method I know for thinking this way is the 24×3 rule for optimism." Thus, when Karren hears an idea from her mentee, she spends 24 seconds, 24 minutes, and/or maybe a day thinking about all the reasons that the idea is good before she responds to any aspect of it.
If you're interested in establishing a mentor/mentee relationship with Karren, complete the
REQUEST KARREN
form today.
In Karren's book she states, "Get started. It's time to move your goals from park or idle to drive. You're the driver! Don't wait for the bus to pick you up; drive yourself."
What People Are Saying…
I've been to several motivational presentations by Karren Alexander. She is entertaining, energizing and motivating!   You leave with a positive 'I can do it' feeling!!!"
Eddie Reso
Karren Alexander is a phenomenal motivational speaker, teacher, and preacher.  She is the ultimate story teller and she keeps you on the edge of your seat with her powerful life lessons and encouraging words of wisdom.  She is compassionate, inspiring, and notorious for making her audience laugh as we reflect on our everyday thoughts and behaviors.  Every speech she gives, provides a message of hope, encouragement, and restoration.  She shows us that regardless of the various life challenges we may face, that we can chose to be victorious versus being the victim. "Awesome" is her middle name and once you experience her, you will never forget her.  She is a true gift from God, and I have truly been blessed by her messages.
Deborah Bush-Butler
You are such an amazing woman and I am so excited about your message to our students as a member of the selecting official panel. It is not often that I have heard a speaker who has the substance in the presentation which is also powerfully delivered. Thank you for the thoughtful preparation as well as your valuable time.
Lee Nightingale
Karren was one of the best teachers I've ever had. Karren is very patient and explain things in ways that kids could understand. Karren is also visual. She will go to the board and diagram or document processes so everyone can see the work flow and understand the processes. Karren is very thorough in her teachings and shared her knowledge of financial management, financial systems, accounting and leadership.
Andria Milton
Ms. Karren Alexander has been the epitome of the word mentor. I started working at USDA under her department as an intern in 2015. From the very beginning she exhibited qualities of leadership, courage, she always remained steadfast and confident in her knowledge/understanding, but still had the ability to be open and listened to others thoughts and opinions. Through her own knowledge and the information/opinions of others she has the ability to develop or enhance a plan.
In addition to accomplishing the multiple task assigned to her, she was always able to find time to meet with me about whatever questions I had.
The most unique skill Ms. Karren Alexander had is her patience. She does not simply give you the answer, but instead would help us develop the best answer. If necessary she would provide guidance, however you can never expect a direct answer. If the answer could be researched or recalled from a past meeting, she will challenge you to not only remember the answers given but also, potentially identify any issues/errors in the solution.
Ms. Karren Alexander is an ideal mentor and has the qualities, skills and knowledge to guide you in the direction of being a successful leader, supervisor or simply a motivated individual.
Thank you for all of your help and support in helping me to achieve all that I have at USDA.
Dahlia Daniel
By having you as my Mentor, it was a lifelong learning experience to meet weekly and discuss issues and concerns of daily life that could perhaps hinder or assist in a person's professional growth.  By having special assignments, such as reading Leadership Novels and watching movies, really made me put my thinking cap on again.  During our mentoring sessions, just counting the number of novels that you read, really inspired me to start reading again.  Our mentoring session was so uplifting that I recommended my coworkers to join the next session and select you as their Mentor.  It was truly amazing how you managed to take time out of your busy work schedule to meet weekly for our hourly session and always had such a warm and welcoming smile.  And if any sessions were missed, you always rescheduled.  The advice shared about your experiences and how you overcame your challenges was really appreciated and will be put to use (if similar situations occur).  There was much information shared and learned, even as small as where to sit at a table during meetings.  You are truly an inspiration with such a "huge" heart.  Once again, I feel that I selected the best person for leadership and guidance.  Again, thanks for being you!
Ronelda Brown
From the very first day I met Karren, I was impressed with her professional demeanor, positive attitude, outstanding communication skills and beautiful smile. She has never let her physical limitations place any limit on anything in her life. I am honored and blessed to have known her. Your life will be forever changed just by meeting and hearing her story.
Edna Knight
You challenged the debutantes to set and achieve great goals in their lives. You were one of their favorite speakers because of your honesty and sincerity. You always strive for excellence in whatever you do. Your head is always held high and your eyes are sparkling with the anticipation of the next great achievement.
Charmaine Taylor
I thank her for believing in me and not giving up on me as I continue to learn my responsibilities as a Systems Accountant. One of her gifts definitely is teaching. She is a very loving, caring and inspiring individual, who has enriched my career path and personal life through the Lord. Thank you Karren for being who God intended for you to be as you go through this Christian journey with Him. Continue being a virtuous woman of God!!!
Christine Roye
I am honored to have been afforded the opportunity and, pleasure of attending several events, where Ms. Alexander was the keynote speaker. Each time I was utterly wowed by her enthusiasm and energy!  Her style is both humorously entertaining, and thought provoking, as she intricately weaves the threads of her life's journey into a formidable plan for SUCCESS, in all aspects of life...
Richard J. Cooper
Electrifying motivational speaker! Among the very best that I have encountered .... Expertise and it shows!  Her Passion for  the subject matter is infectious!
Miner Rogers
I often share the story of how you encouraged/inspired me to accept job position. I jokingly say "you made me leave" but because of your unselfishness and encouragement, I've learned not to be stagnant in one place. One would say that you're a "tough cookie" but truthfully speaking, you're a hard working woman and you don't expect less from others. You view everyone as a leader, no matter the grade status and you expect them to behave as such. I've learned a lot from you and can honestly say that I am grateful for your toughness.
LaShawn Gayle