Karren's passion for financial management started when she graduated from Northwestern State University in Louisiana with a BS in Accounting and Business Management. In addition, she earned her Master's degree in Accounting from Strayer University.
Karren began her Federal Government career as an Accountant trainee on the USDA Kisatchie National Forest in Pineville, LA. She was subsequently transferred to many other office locations in the states of Arkansas, North Carolina, and the District of Columbia (DC). Her 35+ years of performance with USDA was documented as being outstanding. During Karren's career, she was progressively responsible for ensuring the timeliness, completeness and accuracy of the financial transactions recorded in the accounting system for multiple billions of dollars. Many of these transactions are common to the general household, such as, ensuring telephone, utility, and cable bills were paid across the United States. Karren's federal financial management career coupled with other training and experiences provides her with the fundamental knowledge needed to instruct individuals and families on their personal finances.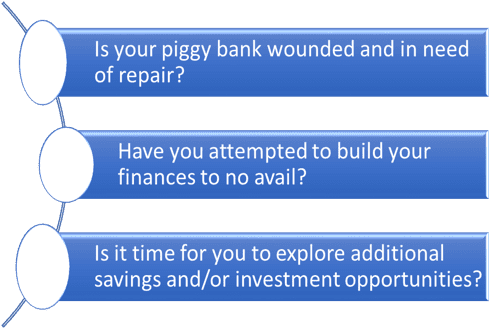 Are YOU ready to control your debt or do you want your debt to continue controlling you!
Karren retired April 2017 after 35 years of exceptional Federal Government service as a senior Accountant and Manager. Because of her compassion and demonstrated commitment for financial management, Karren is the Founder of OneWAY Enterprises. OneWAY serves as the personal financial management coach for individuals and families. She helps individuals and families to establish a strategic budget and financial plan and insurance strategy. In addition, if applicable, she helps to develop a debt management plan. The essential question she asks all clients:
Karren starts by offering a free, yes FREE, 45 minute consultation.  She  guides her clients through a series of assessments to determine the best foundational financial course and build a workable financial management solution.
How many credit cards do you have?  What about student, car, personal, and mortgage loans? Once you get yourself in debt, it will be hard to get out.  However, strategies can be implemented by helping a person understand:
Their Debt
Daily or frequent repetitive expenses
How not to Get More Debt:
How to spend money on necessities
How to cut out unnecessary expenses such as:
Click here to schedule your free 45 minute consultation today
In addition, as an Entrepreneur with World Financial Group, she teaches financial education. As such, her mission is to help build and protect wealth for families. She creates relationships based on trust and integrity. World Financial Group offers an array of products and services from some of the largest and most respected companies in the financial services industry. This group provides clients with peace of mind about their financial future, while aiming to best serve their personal needs."
Did you know that 95% of women will be their family's primary financial decision maker at some point in their lives? This statistic reveals the great need for women to have the financial education and guidance they need to take control of their financial future.
Karren's goal is to create generations of people who know how to better manage and protect their money. Karren's goal is to help you develop a proactive approach to managing your current finances while planning for the future.
Insurance
Life insurance
Disability
Medical Insurance
Medicare Supplements
Final Expenses
Long Term Care
Business & Group Plans, Healthcare/LTC Options
Investments
Annuities
Mutual Funds
IRA – Traditional, ROTH, SEP
World Financial Group is committed to educating people about their financial choices regardless of their income so they can make informed decisions about their finances and acquire a healthier financial balance. Your financial position should balance and be built in the direction of having more savings set aside for emergencies, vacations, sufficient insurance, retirement plan, etc. Your finances should not lean to the right and look like this:
Clients learn how to control their money instead of letting their money – or lack of it – control them. WFG associates believe that you work hard for your money, so it should continue to work hard for you. We take our mission to heart and put this philosophy into action on a daily basis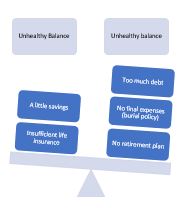 Contact me for a COMPLIMENTARY Financial Session. I'm willing to listen, respond to questions, provide answers, and focus on you and your future.
Here is what people are saying
"You are such an amazing woman and I'm so excited about your message to our students as a member of the selecting official panel.  It's not often that I've heard a speaker who has the substance in their presentation which is also powerfully delivered.  Thank you for the thoughtful preparation as well as your valuable time."
Lee Nightingale
"Karren Alexander is a visionary leader with an insightful awareness of what people need to succeed and how she can empower them for success. She has a bold determination to be successful and to help others succeed."
Karen Kyser
"Karren is an amazing woman. She is intelligent, articulate and insightful on how people can use challenges to open up endless possibilities instead of being knocked to the floor permanently. Her gift is teaching us all how to recognize and tap into the inner strength and beauty inherent in every human being and move forward in our relationships, our careers, and our lives. She brings a unique perspective to looking back and looking forward to find the positive and purpose in all of us."
Tanya Sharratt